Got a Good Laywer  Part II
Last week, I introduced a new blog series, called "Got a Good Lawyer?" In the post, I shared that the most important thing to consider when you're looking for the best representation in Minnesota is to pick the lawyer that is the best fit for you and your divorce. I also told you that the purpose of the series is to help you judge whether a divorce lawyer is right for you or not by evaluating him/her on 10 specific criteria. So this week, I'll get started by identifying and discussing the first 2 criteria: COMMUNCATION and PERSONALITY.
     1.
COMMUNICATION

:

Perhaps one of the most significant factors to take into consideration before hiring your divorce lawyer, is to clarify communication procedures ahead of time.

For example, you'll want to know the answers to questions such as,
"How can you get a hold of your lawyer when you need to talk with him/her about your divorce case?"
"Does your divorce lawyer have open office hours or is s/he able to meet with you in the community?"
If you prefer to talk on the phone, email, fax, text, skype, etc… "Does the divorce lawyer currently have systems in place to match your preferred method of communication?"
If your divorce lawyer is unavailable… "How long will it take for him/her to get back to you?"
"How often will your divorce lawyer update you on your case?
The last question is important because if you're someone who wants to be updated immediately and frequently throughout your divorce case, you want to make sure that the divorce attorney that you pick has the resources needed (whether that means the divorce attorney has a legal assistant, a manageable caseload, etc…) to meet your preferences.
     2.
PERSONALITY

:

Sometimes people just rub you the wrong way and you can't necessarily put your finger on what it is that bothers you.

     When you first meet with your divorce lawyer, consider the following…
How do you feel around him/her?
Does s/he seem genuine and authentic when talking with you?
How long did you have to wait in the reception area before s/he greeted you for your intake appointment?
Did s/he offer you a beverage and try to make you feel welcomed and comfortable in the office?
Importance of Initial Consultation with Divorce Lawyer
Why does it matter if you meet with your divorce lawyer in person before hiring him/her? Well, if you don't meet with him/her in person, you're making it harder on yourself. Here's why…
Research from UCLA professor Albert Mehrabian demonstrates that we infer meaning and our understanding of someone not on what they say to us, but how they say it. In fact, body language accounts for 55%, tone of voice accounts for 38%, while words account for a mere 7%. In addition, when someone's verbal communication doesn't match their non-verbal communication, we believe the non-verbal communication to be more valid.
Actions Speak Louder than Words
We've all experienced this in real life. For example, when you ask a friend how she's doing and she says fine, but you notice that her eyes are glossy from holding back tears.
Do you actually believe that she is fine? No.
Although she says she's fine (verbal communication), her facial expression (non-verbal communication) says otherwise. And since the two don't match…we deem the non-verbal as the true message, which then guides our behavior to try and comfort her, instead of talking about the promotion we just got at work.
Therefore, if you're trying to get a sense of whether this divorce lawyer or that divorce lawyer is a good fit for you, you can only get the whole picture by meeting with him/her in person. Otherwise, as the research shows, you're making a decision without having all the information.
No Free Initial Consultation Offered
Unfortunately, some divorce lawyers charge a fee for the initial consultation. Not being able to meet your divorce lawyer in person makes it harder to get to know his/her personality. However, you can get a glimpse of your divorce lawyer's personality by searching for him/her on social media. Try checking out your divorce lawyer by visiting his/her Google+ page, Website, LinkedIn account, Pinterest, Facebook, Twitter, or You Tube channel.
No Free Initial Consultation & No Social Media Presence
If the divorce lawyer you're considering doesn't offer a free initial consultation to meet him/her in person and s/he doesn't participate in social media, then how is s/he trying to meet your needs? The fact that the divorce lawyer doesn't offer the opportunity to meet in person and also doesn't participate in social media already tells you a lot about his/her personality.
However, if this is the case and you're still interested in the divorce lawyer, then the additional criteria to come will have more weight in your decision on who you decide to hire and I highly recommend you come back next week when I share criteria 3 and 4.
One Last Thing on Personality
I'm not saying that the two of you (you and you're divorce lawyer) have to be kindred spirits. In fact, I think we all know that even if your best friend happened to be a divorce attorney, that it would be in your best interest NOT to retain him/her as your divorce lawyer.
I simply just wanted to point out that things typically go a lot smoother when you're not also budding heads with your divorce lawyer and having to deal with clashing personalities.
What Do You Think?
What are some communication practices that you wish divorce lawyers would use more often?
What personal qualities do you look for in a divorce lawyer?
Or what qualities make a good lawyer?
Please check back next week to see our next post in the "Got a Good Lawyer" series. Please take a moment to add to the discussion by commenting in the section below. Look forward to reading what you have to say! Thanks!
Sources:
Mehrabian, Albert; Wiener, Morton (1967). "Decoding of Inconsistent Communications". Journal of Personality and Social Psychology 6 (1): 109–114.
Mehrabian, Albert; Ferris, Susan R. (1967). "Inference of Attitudes from Nonverbal Communication in Two Channels". Journal of Consulting Psychology 31 (3): 248–252.
– Author: Rachel Rogers, Editor: Matthew Majeski on behalf of Majeski Law, LLC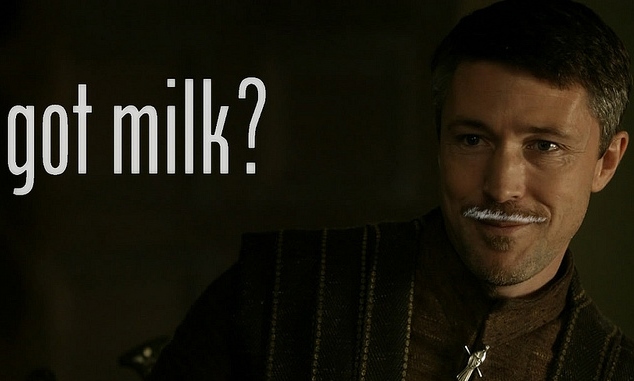 Starting a New Series and it's called, "Got Milk a Good Lawyer?"
Last week, I discussed 4 advantages of hiring a small law firm for your divorce in Minnesota. However, when you're looking to hire a lawyer for your divorce, it's important that you're evaluating more than just the size of the firm. Therefore, as promised last week, I'm going to identify the additional factors you should take into consideration when deciding who to hire as your divorce lawyer. In fact, this post serves to introduce you to the "Got Milk a Good Lawyer?" series. Ok cheesiness aside with my title, I'm writing this series for a couple of reasons:
First, I hope to spare you some of the hassle and time that goes into finding a divorce lawyer in Minnesota.
Second, although no divorce lawyer in Minnesota (regardless of who you decide to go with and how much money you're willing to spend) can guarantee a certain outcome in your divorce, your divorce lawyer should advocate for your needs and treat you with respect. By focusing on these additional factors, you're increasing your chance of that expectation becoming a reality.
And lastly, unless you've been divorced before or have extensive experience with lawyers, there are simply things that wouldn't cross your mind, that I believe would be helpful for you to know about a head of time.
So with that aside, I'm going to start with the bottom line right from the get-go…
Most Important Thing to Consider when Hiring a Divorce Attorney
If you want to ensure that you're getting the best representation for your divorce, the most important thing to consider and ask yourself is this: 
"Is this lawyer a good fit for me and my divorce case?"
Now you might be thinking to yourself, "Well yeah, I already knew that!" But I'm going to take the chance that you've never actually sat down and taken the time to think and come up with the exact criteria that you will use to judge whether this divorce lawyer or that divorce lawyer is a good fit for you. So that's exactly what "Got a Good Lawyer?" series will be all about! In the following posts, I will identify 10 specific criteria for you to use to make it easier for you to find the best lawyer in Minnesota to represent you in your divorce. Next week, we'll get started with number 1 and 2. Thanks so much for reading and see you soon!
When you're thinking about divorce expenses or looking to hire a divorce attorney, it's important that you take into consideration Minnesota divorce retainers and understand retainer fee agreements. If you've never hired a lawyer before, you may be wondering, "What's a Retainer?" This article explains what a retainer is, how a retainer works in Minnesota divorce and family law cases, and what you need to know before signing a retainer fee agreement or representation contract with an attorney.

Legal Retainer Definition
A retainer (also sometimes referred to as a, retainer fee) is a good-faith, advance payment made to a lawyer for legal services. The retainer can be a single advance payment or reoccurring, depending on your situation. (We'll talk more about single vs. reoccurring payments later in the article).
Retainer Purpose
In addition to signing an engagement letter (or representation contract), the retainer establishes a client-attorney relationship between the individual and the lawyer. Without the retainer, an attorney will not work on your divorce or family law case, provide legal advice or representation. Thus, the retainer provides the individual with legal services and ensures that the attorney will be paid for such services. 
How Does a Retainer Work?
First, the retainer is typically collected during the intake appointment with the attorney. There are a number of different payment methods available to you. Learn about the different retainer payment options by reading: How to Pay for a Divorce Lawyer. Additionally, in some cases, your spouse can be ordered to pay your attorney fees. To learn more about when you can don't have to pay attorney fees, read: Attorney Fees. 
After intake, the lawyer puts the retainer into a separate trust account for the client. The retainer belongs to the client. No money from the retainer can be collected by the attorney unless it has been earned.
Then, as the lawyer works on the divorce or family law case, s/he charges the client for legal services provided. The client pays for such legal services with the retainer (the money in the trust account). As services are rendered, the lawyer withdraws money from the retainer for payment. Once earned, money from the retainer is deposited into the firm's account and no longer belongs to the client. Any unearned portion of the retainer is returned back to the client. (We'll talk more about retainer refunds later in the article).
Minnesota Divorce Retainers
Typically, divorce and family law attorneys in Minnesota require an initial retainer somewhere between $3,000 – $5,000 and charge on an hourly rate basis. Minnesota laws, specifically Minnesota's Rules of Professional Conduct Regarding Fees, guide what attorneys can charge, when they can charge, how they can charge and their responsibilities to the client-attorney relationship. For example, in Minnesota, it's illegal for an attorney to charge contingency fees in family law matters. However, Minnesota divorce and family law attorneys can legally seek reimbursement from the client for in-house costs and materials, like: paper; printing; coping; telephone charges; postage; etc…
TIP: In-house costs quickly add up and can exceed people's expectations. Therefore, it's important that you ask the attorney how additional case costs and expenses are handled. For example, at Majeski Law, we do not charge the client separately for such in-house expenses listed above.
Single (Initial) Retainer vs. Reoccurring (Replenishing) Retainer Fees
The initial retainer is the amount your divorce or family law attorney believes is reasonably necessary to start working on your case. As your case proceeds, you may need to replenish your initial retainer to continue working with the attorney. Thus, the initial retainer may cover all legal services during your divorce or family law case or you may have reoccurring retainer fees. Whether you'll have a single retainer fee or reoccurring retainer fees will depend mostly on you, your attorney and the specifics of your case. (We'll talk more about replenishing the retainer later in this article).
TIP: Don't be afraid to bring up money concerns with your divorce or family law attorney. In fact, it's best to address any financial issues right away with your attorney. Generally, the more you, as the client, do yourself, the more money you can save. Therefore, it can be helpful to identify tasks that you can do yourself, and tasks that you will need an attorney to complete for you.
Retainer versus Additional Costs and Total Expense
Typically, the retainer is only used to pay attorney fees. However, you'll have additional case expenses, such as court filing fees. Court fees are set by the court, collected by the court, and paid to the court. You pay court fees regardless of whether you have an attorney or not as they are mandatory in the state of Minnesota. For example, it costs about $400 to file for divorce in Minnesota.
In addition, during your divorce or family law case, you may acquire additional services from a third party, such as a mediator, custody evaluator or a property appraiser. Like court fees, your attorney has nothing to do with third party fees, and retainer funds are not used to pay such third party fees. Instead, payment for services from a third party should be arranged between the third party and the client, directly.
NOTE: An attorney may be willing to use money from the retainer to pay a court filing or process server fee on your behalf, but those tend to be the only (and rare) exceptions. If retainer money is used to pay a court or process server fee, the firm can provide you with a court and/or process server receipt. In addition, best practice would also be to have such items and services clearly accounted for on the firm's invoice.
Thus, the retainer does not cover your divorce or family law case expenses. Instead, the retainer is only for attorney fees. We stress this point, because some individuals mistakenly take the initial retainer fee to be the total cost of their divorce or family law case. Although attorney fees (and thus, the retainer) impact the total cost, they're not the only expenses in a divorce or family law case. Instead, how much your divorce or family law case will cost, will depend upon your specific situation and several different factors. Therefore, it's best if you can budget accordingly.
Read: How much a Divorce Costs in Minnesota to estimate your total cost and learn how you can save money.
Retainer and Retainer Fee Agreement
The terms of your engagement letter or representation contract with your attorney should include a section regarding the retainer fee agreement. The retainer fee agreement or retainer agreement you make with your lawyer should not only be in writing, but should clearly state the firm's procedures and policies regarding the following: Retainer amount; Hourly rates; Services provided; Scope of representation; etc…
Retainer and Accounting Practices
In addition, your lawyer should provide you with a regular invoice. A good invoice shows you what services were provided, who completed the work (such as, an attorney or a paralegal), and the amount withdrawn from the retainer. Best practice would be that you receive a monthly invoice, unless no services were provided that month. In that case, depending on the firm, you may or may not receive an invoice that month. The firm's accounting and invoice practices should also be explained and stated in writing in the retainer agreement.
Retainer Fee, Replenishing the Retainer and Legal Representation
As mentioned earlier, you may need to replenish the retainer. Some divorce and family law attorneys require the retainer to be replenished to the initial amount, while others require a larger or smaller amount. Inability to replenish the retainer usually results in the divorce or family law attorney withdrawing from the case. In that instance, the client would either need to represent him/herself in the divorce or family law matter or seek services from a free legal clinic. Again, the firm's policy regarding representation and retainer replenishment should be clearly explained and stated in writing in the retainer agreement.
Retainer Refund
Once your case is completed and closed with the firm, you should receive your last invoice. At this time, you may still have money left in your retainer. As previously mentioned, the retainer money belongs to the client, until it's earned. Therefore, any unearned portion of the retainer belongs to the client and must be returned.
In addition, you, the client, may fire your divorce or family law attorney at any time. Similarly, whatever balance is left in your retainer after closing out your case, would be returned to you. Therefore, whether you end up receiving money back, depends on the remaining balance of your retainer when your case is closed (regardless of whether your case is finished or because you fired your attorney).
NOTE: Because the retainer money belongs to the client until earned and the client is not receiving the entire retainer fee, it's not truly a retainer refund. It's actually more accurate to call it an unearned retainer return. However, because "unearned retainer return" is not commonly used or searched for by the public, "retainer refund" is used, and refers to the remaining (unearned) portion of the retainer that gets returned back to the client. Again, we emphasize that the client only receives the unearned portion of the retainer at the end of the case.
Minnesota Divorce Retainers Summary:
The retainer is money that you designate up front to your lawyer to be used to pay for services provided during your divorce or family law case.

The retainer is put into a trust account and belongs to you. No money is collected from the retainer until it's earned by the attorney.

As services are rendered, money from the retainer is paid to the firm. Once collected by the firm, that money no longer belongs to the client.

Depending on your case, you may need to replenish the initial retainer. Inability to pay for services, by not replenishing the retainer, dissolves the client-attorney relationship, legal representation and all legal services.

At any time in your case, you can decide to represent yourself or fire your current attorney and hire another attorney. At this time, the remaining balance would be returned back to you. Otherwise, any remaining balance is returned back to you at the end of your divorce or family law case.

It's very important that you read the retainer fee agreement carefully to make sure that the firm's policies and procedures are stated in writing and that you have a complete understanding before signing the contract.
If you still have questions about retainers in Minnesota divorces or family law cases, the consultation is a great time to ask for more details and clarification. Otherwise, ask your retainer questions when you're scheduling the intake appointment. To learn what else you should be asking when you're scheduling the intake appointment, read: Scheduling an Intake Appointment with a Divorce Attorney for more details and to get your free checklist. 
What Ashton and Demi can teach about divorce in Minnesota
My wife informed me that actor Ashton Kutcher, 35, and actress Demi Moore, 51, recently finalized their divorce.  The couple married in 2005 and separated in 2011.  Ashton filed for divorce at the end of 2012.  The couple were married and divorced in California.
First, California, like Minnesota, is a "no-fault" divorce state.  In fact, California was the first state to adopt the no-fault divorce idea in 1969. 
"No-fault" divorce means that either party may request and get a divorce by simply alleging that the marriage has broken down and cannot be saved. 
Neither husband nor wife needs show that the other party was at fault or responsible for the divorce.  Practically, this takes spousal misbehavior out of the divorce equation (with the notable exception of domestic abuse).
Second, Demi was asking for alimony or "spousal maintenance", which involves one spouse paying the other after the divorce.
In Minnesota, in order to establish the need for any spousal maintenance, the requesting party must show that he or she needs the extra income and the other party has the ability to pay the extra income.
In the Demi-Ashton matter, Demi actually had more assets than Ashton, so eventually she dropped this request as part of the divorce settlement.
Third, the finalization of the divorce was approved by a California judge and entered as a judgment into the court record.  
This is the same in Minnesota.  Here, a judge must ultimately approve of a divorce, either by judicial decision if it's contested, or by signing off on a settlement agreement between the parties.  When the divorce decree is entered, usually within a week or two after the divorce, the divorce is official.
Finally, Ashton is now engaged to Mila Kunis, another actress and former co-star of "That 70's Show" with Ashton.  Reportedly Ashton had wanted to marry Mila earlier but couldn't because his marriage with Demi was still in effect.
This illustrates the idea that polygamy, or marriage to more than one person at the same time, is not legal.  This is true in Minnesota as well.  If someone marries, then marries again while the first marriage is still in effect, the second marriage is automatically void as a matter of Minnesota law and can be annulled.
The proper course in this situation would be to correctly get a divorce in Minnesota and then "re-marry" the second spouse.
Regardless of all of these illustrations, hopefully Ashton will have better luck with Mila.  However, given the nature of Hollywood marriages, my wife is not optimistic.
In a divorce case that's apparently focusing on alimony and property division issues, NBA Star Dwayne Wade's wife staged a protest, saying she, the mother of his children, is on the streets because he doesn't want to pay what he owes her. According to her, it's more than $25,000 a month. The full article can be found here.
A central theme to many alimony decisions is the "Standard of Living of the Marriage". Obviously a NBA-star and his wife's standard is going to be higher than most of us, it does make you wonder though how much is enough.
Of interest as well, the length of time from the start of the marriage to the separation was only five years.  Usually shorter marriages are harder to get alimony awards for.
I'm surprised Mr. Wade didn't insist on a prenuptial agreement as he was already a successful NBA player when they got married, and he could have saved himself a lot of these headaches if post-marital property and spousal maintenance rights had been hammered out before hand.
Also interesting. D-Wade got sole custody of the two joint children of the marriage.  This obviously saves him a significant amount in child support.  I'd be curious how his lawyer's managed to get this as Wade travels presumably for much of the year and likely hasn't had a ton of time to be in a primary caretaker role.
A local radio station, 101.3 KDWB out of Shoreview, Minnesota, has been broadcasting in the Twin Cities for over fifty years.  Dave Ryan, one of the radio personalities on KDWB, hosts the "Dave Ryan in the Morning" show on weekdays.
One of the skits he performs on the show is "When was the last time you paid child support?"  The following description of the skit comes from Wikipedia on April 16th, 2013:
"When was the last time you paid child support: A prank where Dave calls shady, lazy baby-daddies who spend their child support money on binge drinking. Dave invites them to take a short 3-question quiz to win an iPad mini or some other modest electronic give-away. The first two questions are a breeze, but the final one reveals what tools these wankers truly are. The ensuing rage-spewed insults from the baby mamma make this bit an instant classic."
As a family law attorney, I would not advocate any of my clients participating in this show and airing their family's dirty laundry in public.  More importantly, creating more hostility between parents is generally detrimental to the best interests of the children.
However, I must say the skit can be enjoyable to listen to when a parent (usually a mother) decides to do it anyway.  Some of the clips seem like they were taken straight out of an old Jerry Springer episode.
Downloadable and streamable sound clips from the show can be found on his podcast here: http://daveryanshow.iheart.com/cc-common/podcast.html
Obviously this isn't a remedy for not paying child support.  It does illustrate the tension and animosity a couple can have towards each other when children and financial issues come into play following a breakup. 
These difficulties also highlight the benefit of parties who are willing to cooperate and try alternative dispute resolution or negotiation in a family court matter to try to reach a peaceful agreement.  It's obvious that many of these couples on the air chose to make their situation a difficult fight rather than a cooperative, problem-solving endeavor.
It also raises questions regarding privacy issues in family law matters and child support matters in particular, although I'm not sure how those would resolve.
Divorce and Recession, Strange Bedfellows
A recent article out of Marquette university researchers found evidence that recessions may in fact prevent divorce.  For many this is counterintuitive: Struggling finances are generally associated with marital stress.
Divorce rates have been in steady decline, but dropped markedly during the recession of 2007-2009.  The study researcher, Abdur Chowdhury, guessed that the cost of divorce, the economic disadvantages of running two households, and the increase in homes that are not worth their loans, all forced some couples to stay together, even if perhaps they didn't want to.  This is also coupled with the difficulty that many had finding gainful employment, full-time employment, or employment at higher wages.
The study further shows that divorce rates increased when the economy started to recover slowly in 2009.  Mr. Chowdhury argued this reflected the "pent-up demand" for divorce that was finally able to release.
The researcher put it plainly, "Many couples simply do not have enough money necessary to support themselves separately and pay for other financial obligations.  As a result, many couples that wanted to separate and divorce had either put their cases on hold and remained together out of economic necessity or were looking for more creative and cost-efficient means by which to separate and divorce."
In regard to housing prices he added, "A second major reason that divorces are being delayed is directly related to the depressed housing market …", "In the past, divorcing couples often used equity that they build up in their marital residence to fund their divorce and provide each of them with a nest egg to begin their separate lives."
As many know, home prices have dropped significantly in recent years and many homeowners unfortunately have little, no, or negative equity in their homestead.
Reducing the Cost of Divorce
For those in Minnesota still interested in divorce, this emphasizes the importance of finding a Minnesota divorce lawyer who will work with you to get through the divorce process fairly yet reasonably conflict-free, if possible.  The more contentious a divorce is, the more costly it is.
For anyone interested, a link to the published article can be found here for a fee.  A free version of a working draft can be found here.
The following was written by Judge Michael Haas after 25 years on the bench in Cass County, Minnesota.  He retired in 2002, however his advice to parents in Minnesota divorce and child custody cases remains as profound as it was years ago.
The Judge's Letter to Divorcing Parents
"Your children have come into this world because of the two of you. Perhaps you two made lousy choices as to whom you decided to be the other parent. If so, that is your problem and your fault.
No matter what you think of the other party—or what your family thinks of the other party—these children are one-half of each of your. Remember that, because every time you tell your child what an "idiot" his father is, or what a "fool" his mother is, or how bad the absent parent is, or what terrible things that person has done, you are telling the child half of him is bad.
That is an unforgivable thing to do to a child. That is not love. That is possession. If you do that to your children, you will destroy them as surely as if you had cut them into pieces, because that is what you are doing to their emotions.
I sincerely hope that you do not do that to your children. Think more about your children and less about yourselves, and make yours a selfless kind of love, not foolish or selfish, or your children will suffer."
To Parents Involved in Divorce and Child Custody Situations
I hope that putting the best interests of your children first is what drives anyone in a child custody or divorce proceeding.  If that's not enough, there are also practical reasons in the context of a divorce case to be as honorable as you can. 
The inability to get along with the other parent can reflect badly on your character in the eyes of the judicial officer and make him or her question your ability to be a mature and positive role model for your children. 
In addition, putting down the other parent can indicate to the judicial officer that you are not willing and/or able to put the interests of your child ahead of your own feelings towards the other parent.
Judges have a great deal of experience with family law situations and are well able to get to the bottom of situations if one parent is truly bad for the child.  Bad mouthing them, particularly in front of the children, will only reflect badly on you.
Divorcing a Husband who gave birth to your children
This is the situation facing an Arizona couple.  Thomas and Nancy Beatie have been married for nine years.  They have three children together. They both want a divorce now.  However, they're running into a snag.
The Marriage
It turns out Mr. Beatie was born a woman and had undergone a sex-change operation.  Despite the change, Mr. Beatie retained his ability to give birth to children and had three children during the marriage.
The couple married in Hawaii in 2003.  Mrs. Beatie is unable to have children, so Mr. Beatie conceived with donated sperm on all three occasions.
The couple are now together seeking a divorce.  If not for the transgender issue it would be a fairly routine dissolution.
The Legal Status of the Marriage
Arizona has a ban on same-sex marriages.  So now the judge has a quandary as he contemplates this divorce.  On one hand, he can't recognize a same-sex marriage as valid by the laws of his state.  On the other, it's not quite clear whether the couple is same-sex or a man and woman.
The judge will have to decide whether on which side a marriage involving a transgendered person falls.
Impact in Minnesota: What Marriage Validity Means
If this case were in Minnesota, the implications of whether or not the marriage was valid from the start are significant.  It could influence custody rights, child support, alimony, and property division.
In Minnesota, marriage can grant certain rights and privileges, some of which may continue in the case of a divorce.  If there never is a legal marriage, those rights could vanish.
Child Custody, Parenting Time, and the Holidays
The holidays are usually a great time for children.  However there is one sure way to spoil a child's experience.  When both parents are fighting, being petty over little things, and putting their wants first, the child will often lose.  This is true in general, but can be especially painful during what should otherwise be a joyous and happy time for the child.
The Parenting Time Trap
Holidays can often be a special time.  Along these lines, parents may place great importance on this time, and rightfully so.  However, because of this importance it's easy to fall into the trap of believing that this is the time to dig in one's heels and "assert my parenting rights".
I'm not suggesting any parent should roll over to unreasonable demands to the other.  Nor should any parent facilitate contact that would put their children in danger.  With this in mind, here are some suggestions to make the holiday experience as best as it can possibly be when there are parenting time issues.
Ten Ideas for Holiday Parenting Time
The best interests of the children should come first … always

Holidays can be a great time to build the relationship between parent and child.  This goes for both parents

Court-ordered parenting time schedules, which should include holiday provisions, are still the rule …

… But flexibility can also go a long way towards building goodwill with the other parent and making it a better holiday time for your children

Along those lines, building in some holiday time for each parent with the child is often the best strategy

Understand that the other parent's holiday decisions are sometimes based on family decisions, not just his or her own.  Sometimes he or she may not be able to control a schedule conflict

Usually, each parent places the same amount of value and importance of spending holiday time with their children

Usually the children, especially younger ones, place the same amount of value and importance of spending holiday time with each parent

One side is not "losing" if they generously offer flexibility to accommodate what's best for their children

Lastly, if any disputes over these issues go to court, a judge is generally going to be very underwhelmed with the party behaving unreasonably and disregarding the interests of his or her children.  This may be especially true for behavior during the holidays.
Happy Holidays to everyone.  I hope no one has to deal with bad custody situations during this time.